A Map of Parkinson's APP
Information Resource for All
What is A Map of Parkinson's APP?
A user-friendly app about Parkinson's and around 50 symptoms commonly linked with the condition.

Learn in any order, at the speed you want, at times that suit you. Every person with Parkinson's is different and their personal collection of symptoms will also be very individual. So, this Map of Parkinson's lets you explore a wide range of symptoms and select what interests you to learn more about.

This Map is for people living with Parkinson's, their family, friends and others who want to understand the condition better. Ideas about methods that can be used to compliment medical treatments are shared in the pages of this Map.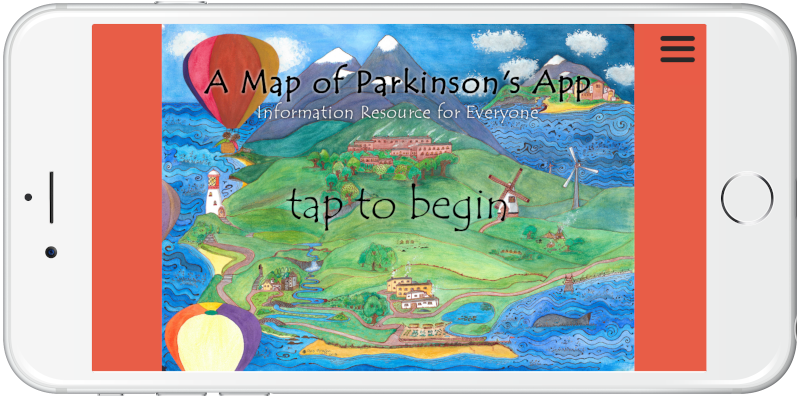 The information in this Map is not intended to be taken as medical advice and any questions about medical treatments must be discussed with a person's own doctor or healthcare team.
Use this Map as a reference tool - both Online and Offline.
It can be used or installed
on desktop and mobile .

using many web browsers, including Google Chrome



DONATE




Free account registration is currently closed.

To get an account please donate or purchase the course.


A Map of Parkinson's PRO
Course for Healthcare Professionals
A Map of Parkinson's PRO Course is an innovative, self-study, information and resource course, for Allied Health Professionals and others working with People who have Parkinson's.
Course Aim:
This course will enable Allied Health Professionals and others to practice competently in caring for people affected by Parkinson's.
Target Group:
All health care professionals involved with caring for people with Parkinson's can gain from studying this course.
Provider:
Phoenix-Aragon Education
– created by
Ana Aragon
Format:
The course is proided as an app using any web browser, such as Google Chrome
On desktop and mobile operating systems.
What is A Map of Parkinson's?
A flexible learning experience that allows you to study around 50 symptoms associated with Parkinson's in the order you choose.
A user-friendly course that lets you to study at the times that suit you personally.
Exploring the full course content will give you a comprehensive understanding of Parkinson's.
Time invested is entirely flexible, so you can study at your own pace.
The Overview of Parkinson's section in the Free Foundation / Introduction module lets you try before you buy.
8

Modules
An Overview of Parkinson's
Pain and Fatigue
Impacts of Parkinson's on Personal and Public Life
Cognition, Perception and Motivation
Sleep and Night-time Issues
Motor Symptoms
Neuropsychiatric Symptoms
Autonomic, Gastrointestinal and Sensory Symptoms
Pain and Fatigue
challenge classification, so have been presented within a module of their own. As these symptoms commonly cause reduced quality of life for people living with Parkinson's, this module is recommended as the next step, after setting the scene by viewing the
Overview of Parkinson's
section in the Introduction.
Expertise used to create this course.

This course is based on my experience of talking with and teaching people living with Parkinson's, their families and friends.
As well as experience teaching a wide variety of Physicians and Allied Health Professionals, and others who work with people with Parkinson's in other roles - for instance, Care Home staff.

I have also contributed to the journal articles, books, national Parkinson's guideline development projects listed above. I have contributed to Occupational Therapy for Parkinson's research, led Masterclasses and have presented at numerous training events and conferences around the UK, and at the Parkinson and Movement Disorders Society's International Congress in Sydney, Australia. Building on these various perspectives, I have designed and created A Map of Parkinson's over a period of more than 3 years.
What happens if I buy A Map of Parkinson's PRO course?
You will gain access to all course content for online and offline use via a Hybrid Mobile Web App.
Once the course is stored in your browser and, or downloaded to a mobile device, your progress, bookmarks and any changes made to the App will automatically update next time you go online.
You will be able to use the course on any platform and gain access with multiple devices as a single user.
Your progress will be automatically logged and your place will be kept between sessions, in any partly viewed sections of the course.
Usefully invest as little as 10 or 15 minutes or longer - when you have time to spare.
Easily find further online materials about symptoms and non-pharmacological management strategies used for coping with the effects of Parkinson's during the course. Viewing additional resources [Information Pages, Peer-Reviewed Articles, Online Seminar Recordings, Video Clips, Webcasts, Podcasts, etc] is entirely optional, but suggested items can provide starting places for further self-guided study.
Gain confidence in advising people with Parkinson's about how they can help themselves.
Access a personalised Record of Completion - showing total time spent engaged with the course, once you have viewed all 38 sub sections in the 8 modules.
Free Introduction Module
FREE
---
Free Access to Introduction Course

Limited Interface

No Saved Progress

No Bookmarks

No Support
Try
A Map of Parkinson's PRO Course
£175
/ user
---
Professional Standard

Single User Access to the Full Course

Expert Links

Online Support

Certificate of Progress

Option to publish achievements online.

Pro Version is Not Intended for Everyone
Buy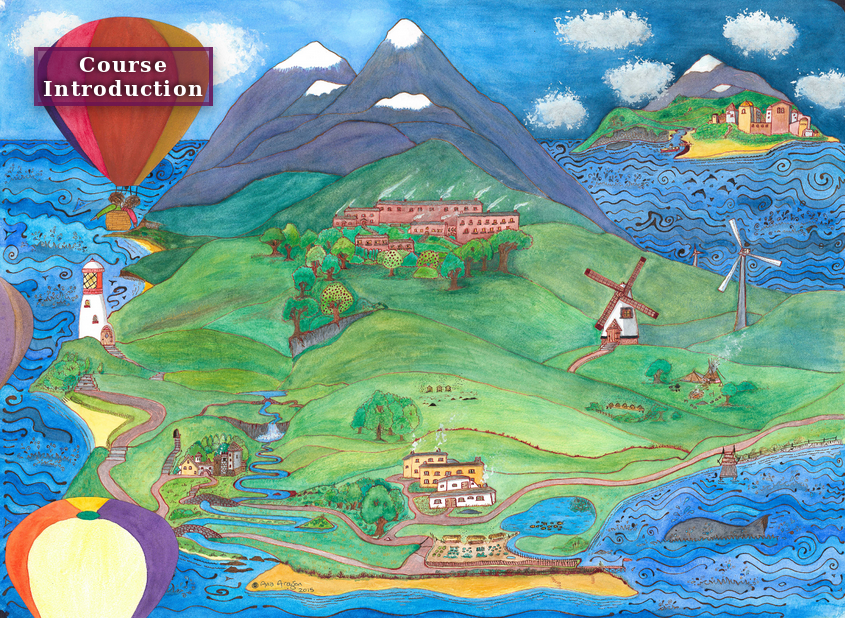 To gain awareness of the motor and non-motor nature of Parkinson's.
To explore the modern multi-disciplinary approach to the management of people living with Parkinson's, including the basics of anti-Parkinson's medications and the roles of a range of healthcare professionals.
To consider the process of diagnosis, alternative diagnoses and related conditions.

Try
To build on foundation knowledge established in the Overview module, to cultivate an in-depth/specialist understanding of the many motor and non-motor symptoms of Parkinson's.
To learn about the management of Parkinson's symptoms, the role of medication and other approaches to aid people with the condition in coping.
To spark further self-guided exploration of any chosen topic, according to work roles and interests, through access to additional online resources - and other information signposted within the course.
Buy
This unique self-guided course can help you to build insight and work more effectively with people living with Parkinson's.
A Map of Parkinson's is a condition-specific course for Nurses, Occupational Therapists, Physiotherapists, Pharmacists, Psychologists, Speech and Language Therapists and Social Workers. The course is also for Residential Care Home Staff and all others who provide services to people living with Parkinson's and who wish to explore the condition in-depth.
"I received my login details for the Parkinson's Map by email and eagerly logged on at the end of a working day. The nature and music sounds incorporated were unexpected but definitely enhanced the learning experience. My body and mind relaxing between each section! The Parkinson's Map is an excellent tool for an Allied Health Professional keen to do self-directed learning about Parkinson's. Ana has done all the research for us and explains each symptom and intervention in very clear terminology. There are links to videos, podcasts, information by Parkinson's UK and other organisations, and suggested research papers to read. I would highly recommend it!"

Debra Gallant,

Parkinson's service - Occupational Therapist,
South Tees Foundation Trust, UK